For You. For Her. For ALL.
What is "Flourishing"?
"Flourishing is to live within an optimal range of human functioning – one that connotes GOODNESS, GENERATIVITY, GROWTH, and RESILIENCE." –Martin E.P. Seligman, leading positive psychology researcher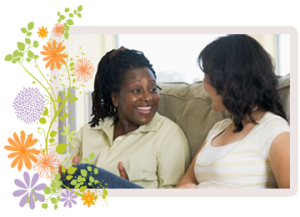 Flourishing 50s is a community of like-minded and like-hearted women in their 50s who are committed to the learning and growing that leads to a healthy physical, mental, and emotional life, while contributing to the flourishing of women and girls around the world.
Wouldn't YOU like to FLOURISH in your 50s?
A woman who Flourishes in her 50s…
The Flourishing 50s Manifesto
It starts with us as women, recognizing a need for greater personal health and life satisfaction as we start a new chapter in the writing of our story in our 50s.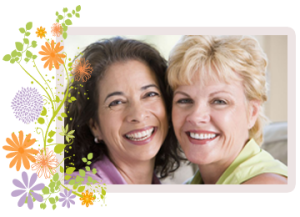 As we immerse ourselves in learning, growing, and moving towards mastery within a community of like-minded and like-hearted women in their 50s, we naturally begin to make a positive impact on the women and girls around us – our daughters, granddaughters, sisters, nieces, friends, co-workers, and neighbors. As we continue to grow and Flourish as a community, we are naturally led to make a larger impact on the Flourishing of women and girls around the world.
How our Flourishing 50s Membership Community works:
Flourishing 50s is a place to…
"There is nothing healthier and stronger than a group of flourishing women." ~Kim Acedo
Belong and be heard
Get energized, motivated, inspired, and supported
Connect and grow friendships with other women in their 50s
Be a part of something BIGGER than yourself!
What ELSE You'll GET as a member:
Deep discounts

on coaching programs, home study courses, and more!

Private Facebook group

where you can ask questions, share experiences, and connect and support one another on your journey.

Membership site

where all our content is housed which makes it easy for you to access what you want when you want it.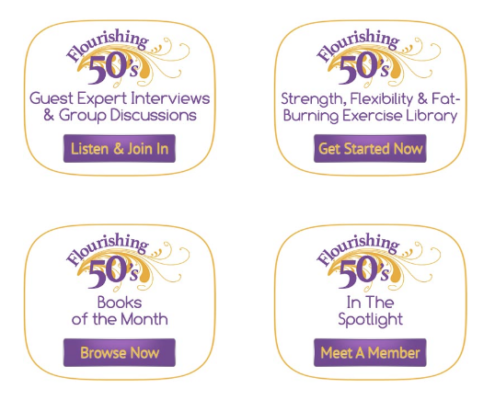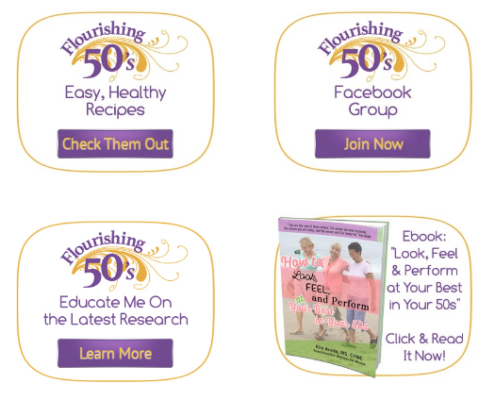 Plus, these tools to help you FLOURISH:
Each Week –

"As we continue to grow & flourish as a community, we are called to make a larger impact on the Flourishing of women and girls around the world." ~Kim Acedo
Monday Exercise of the Week & Healthy Commitment 

– Kim will unveil a new physical exercise or workout she feels is important specifically for women in midlife. Also, you will get an opportunity to make a healthy commitment for the week to the group that we will hold you accountable to!

Transformation Tip Tuesday

– Kim shares thoughtful tip around our Theme of the Month that will help you flourish physically, mentally, and/or emotionally!

Wisdom Wednesday

– Based on our Theme of the Month, Kim shares a quote from a wise woman and encourages members to share and discuss.

Accountability Thursday

– This is your chance to update the group on the progress you've made on the commitment you set on Monday (because accountability is key to creating new healthy habits!)

Friday Recipe of the Week

– Be inspired to try a new recipe over the weekend! Kim shares a new healthy recipe requiring few ingredients and is easy to prepare. She shares all the ingredients and step-by-step instructions you need to create a healthy meal for yourself and your family.

Saturday & Sunday

– Rest, relax, rejuvenate. Kim encourages you to take some for yourself, your family and friends, and simply enjoy your life! Nothing is scheduled in our community, but our forum is always open for sharing 24/7, 365!
Each Month –

Theme of the Month

– A special word to reflect and journal on, as well as discuss with the group.

Book of the Month

– It's like a virtual monthly book club! Read through a transformational book based on our Theme of the Month. Then, join our monthly book discussion call at the end of every month.

Group Discussion with our Guest Expert

– Based on our Theme and Book of the Month, Kim chooses a special Guest Expert to join our live group discussion. (This alone is worth the price of membership!)

Member Spotlight

 – A new member is highlighted and celebrated in our community! This is a great way to get to know each other better.
Throughout the Year: (The following are optional and may require an additional cost)
Fun challenges – Participate in health challenges that will help you get back on track or give you the nudge you need to create and sustain healthy habits along with a supportive group of women in their fifties.
Special events – Various virtual and live events and retreats allow us to deepen our level of connection as a community.
…And MORE!
What You'll GIVE as a member:
Positivity, authenticity, integrity, generosity, respect, and support to all members of the community.
$1 of your monthly dues goes to Women for Women International: "In countries affected by conflict and war, Women for Women International supports the most marginalized women to earn and save money, improve health and well-being, influence decisions in their home and community, and connect to networks for support. By utilizing skills, knowledge, and resources, she is able to create sustainable change for herself, her family, and community."
Please take a moment to browse Women for Women International's website (Women For Women International – What We Do) for insight into the vitally important work they do for women all around the world. With your paid membership dues, YOU will be helping to make a difference.
What You'll NEED as a member:
Be in your 50s.
A personal Facebook account.
An open-heart and mind, and a possibilities mindset – have the willingness to being open to new ideas, trusting the process, and being brave and vulnerable.
If you are a woman in your 50s who is ready, willing, and able to create a FLOURISHING life, please come JOIN US!
Membership dues are only $17/month and we do ask that you commit to three months with us to start. As a reminder, $1/month from your dues will go to Women For Women International.
Do it for You, for Her, and for ALL.
It's MY time to Flourish! SIGN ME UP for only $17 PLEASE!
Frequently Asked Questions:
"How much time is required?"
Feel free to participate as much or as little as you want. Our intention is to give you the tools, guidance, and support you want and need while not feeling overwhelmed. You might find that you want to participate more or less at certain times. That's completely okay.
"I don't have my own Facebook account. Can I use my husband's or kid's account?"
If you don't have your own Facebook account, you must create one that is your very own in order to become a member. Using your own personal account ensures that no one else has access to our group besides you.
"Since the program is conducted on Facebook, I'm concerned about the privacy. How private is our group?"
Your privacy from anyone outside of the membership group is a top priority.
The Facebook group privacy setting is set to "Secret", meaning no one outside of the group can see that you're in the group as well as anything that is posted by you or any other members. This allows all members to feel safe to share even the most private matters.
"I'm a part of other groups on Facebook, what's different about this group?"
Unlike most Facebook groups, this is a paid membership program, which means there is a certain structure and tools that are built into the program for the purpose of creating a result – Flourishing in your 50s!
What's more, each new member signs an agreement and commits to a code of conduct that ensures the group is safe, supportive, and non-judgmental. This provides a platform for members to share and discuss in a safe environment.
Finally, your monthly dues also support our Flourishing 50s Membership Site where all our content is housed and archived for your convenience.
—
Have a question that wasn't answered?
Send Kim your question HERE.